News/Announcements
The School of Medicine's Academy of Distinguished Educators (ADE) is extending the deadline until Monday, April 18 for submitting two-page Letters of Intent to submit proposals for the 2016 education grants program. This annual grants program makes awards in the areas of education research (1 or 2 year grants for up to $ 25,000/year) and educational innovations (1 year awards for up to $ 15,000). We accept research and innovation proposals in either of two areas of education represented at the SoM: 1. undergraduate medical education (UME) and 2. PhD education (BIMS). Proposals should be focused on the improvement of one of these two areas (or a combination of both). The lead PI on any proposal must hold a faculty position in the School of Medicine at the level of Assistant Professor or higher. Please see the attached Call for Letters of Intent for all details related to the preparation of Letters of Intent as well as the entire grant program process.
Letters of Intent should be submitted by Monday, April 18, 2016.
For questions, please contact Larry Merkel or Bob Bloodgood.
Congratulations
The Academy of Distinguished Educators welcomes this year's new members.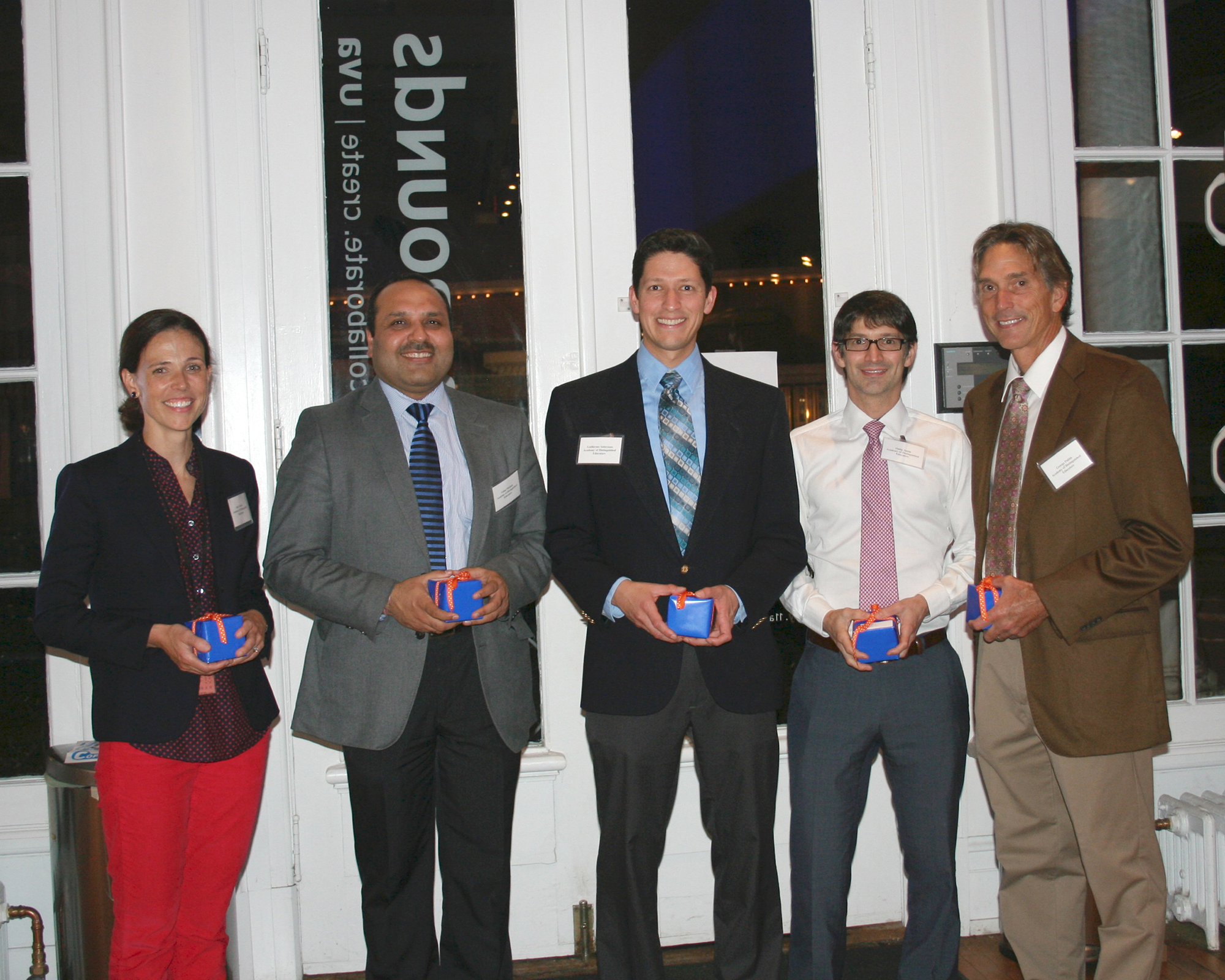 From left to right: Anne G. Tuskey, MD, Assistant Professor of Medicine; Vishal Madaan, MD, Assistant Professor of Psychiatry and Neurobehavioral Sciences; Guillermo E. Solorzano, MD, Assistant Professor of Neurology; Philip W. Smith, MD, Assistant Professor of Surgery; and George D. Politis, MD, MPH, Associate Professor of Anesthesiology.
2015 New Members not pictured: Donna K. Broshek, PhD, Professor of Psychiatry and Neurobehavioral Sciences;  Margaret C. Tracci, MD, JD, Assistant Professor of Surgery; and William A. Woods, MD, FAAP, Associate Professor of Emergency Medicine.
History and Mission
The Academy of Distinguished Educators was founded by the Dean of the School of Medicine in 2003 to provide an organizational structure that would recognize, reward and promote excellence in education.
The School of Medicine charge to the Academy is:
Recognize and reward outstanding teachers.
Work to make excellence in teaching a domain of academic advancement.
Develop effective faculty educators across the academic medical center.
All faculty of the School of Medicine at the Assistant Professor level or higher are eligible for membership.  Information on gaining membership to the Academy is available on the Membership Page.
Educational Research
The Academy fulfills its mission to advance the quantity and quality of research in medical education at the UVa School of Medicine through the Educational Research Program, which sponsors both a Small Grants Program and the new annual Medical Education Research Poster Session.
Steering Committee
The Academy Steering Committee is responsible for developing, coordinating, and overseeing the operations of the ADE committees. The Co-chairs of the ADE Steering Committee are:
Tim Bender, PhD, Professor of Microbiology
Christine Peterson, MD, Associate Professor of Obstetrics and Gynecology; Assistant Dean for Student Affairs
Member Subcommittees
The Steering Committee supervises three Member Subcommittees which focus on the topics of: Activities, Education Research & Resources, and Membership.