2015 Poster Session
Eleventh UVa School of Medicine Medical Education Poster Session
Part of Medical Education Week – March 2-6, 2015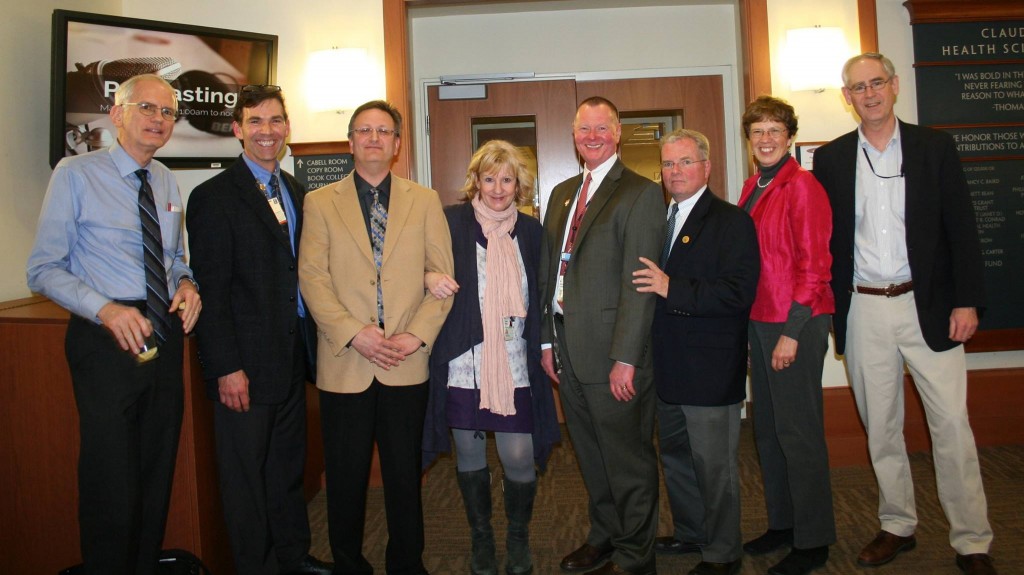 Shown from left to right: Bob Bloodgood, Evan Heald, Paul Haidet (Brodie Award Recipient), Casey White, Dean Randy Canterbury, Eugene Corbett, Chris Peterson, Tim Bender.
The Medical Education Research Subcommittee of the Academy of Distinguished Educators (ADE) held the eleventh annual Medical Education Poster Session at the University of Virginia School of Medicine on March 2-6, 2015, as an integral part of Medical Education Week. Poster abstracts were accepted in two different categories: 1) medical education research and 2) innovations in medical education. Thirty-two posters were submitted; after review, 29 posters were accepted for presentation: thirteen covering medical education research and sixteen covering innovations in medical education. Seventeen posters covered aspects of UME; twelve posters covered aspects of GME; three posters covered aspects of CME. Three of the posters presented projects that were funded by the ADE Medical Education Grants Program (funded by the Dean's Office); two of the posters presented projects funded by the Arnold P. Gold Foundation; one poster described a project funded by a UVa Innovations in GME grant (funded by the UVa Medical Center).
Click here to access the index of posters presented and the poster abstracts.
As has become the custom, this year's poster session was part of an inclusive Medical Education Week of activities. Dr. Paul Haidet, Professor of Internal Medicine and Director of Medical Education Research at the Pennsylvania State University – Hershey, was this year's special invited guest and the 6th recipient of the Anne L. Brodie Medical Education Scholar Award. As a part of this award, Dr. Haidet visited UVa for two full days and met with many groups at the School of Medicine in addition to making three presentations. On Tuesday, March 3rd, at Noon, he gave a joint ASPIRE (Academic Strategic Partnerships for Interprofessional Research and Education)/ Pediatrics Grand Rounds/ Family Medicine Grand Rounds on "Interprofessionalism at the Crossroads of Culture and Curriculum". Tuesday afternoon, Dr. Haidet ran a Workshop on "Turning Medical Education Activities into Scholarship". On Wednesday, March 4th, he gave the Brodie Medical Education Award Lecture at Medical Center Hour on the subject of "Jazz and the Art of Teaching".
The annual ADE social event was held on Wednesday evening, March 4th, to honor Dr. Haidet as well as all of the UVa faculty, residents and students involved in medical education research and curriculum innovation; Interim Dean Randy Canterbury presented remarks about the state of medical education at UVa (focusing on the recent successful LCME reaccreditation review and the implementation of recommendations from the School of Medicine Strategic Planning Process), followed by additional remarks by Dr. Haidet, our Brodie Award recipient.
During Medical Education Week, four of the medical education research posters from the 2014 poster session were selected by a committee to be presented as 30 minute talks. Two of them were presented on Monday (March 2nd) and two of them were scheduled for Thursday of Medical Education Week (although their actual presentation was delayed because of snow). The four talks were:
M. Yoon, M. McCollum, E. Bradley, B. Nathan, M.K. Worden and D. Chen: "Towards optimizing the value of teamwork experience in TBL"
R.S. Zee, S.J. Seaman, M. Engelhard and N.S. Schenkman: "Surgical attention and movement in novice and expert robotic surgeons"
H. Kim, Y. Hu, A. Mahmutovic, J. Choi, I. Le and S. Rasmussen: "Verification of accurate technical insight: a preparation for self-directed surgical training"
J. Choi, Y. Hu, A. Mahmutovic, I. Le, H. Kim and S. Rasmussen: "Trained undergraduate instructors facilitate simulation-based training in invasive technical skills"
The goals of the reception and the poster session, indeed the entire Medical Education Week, were to highlight the medical education research and curriculum innovations currently being conducted at the School of Medicine and to help increase interest in medical education research and innovation among the faculty (and others) by highlighting stellar examples.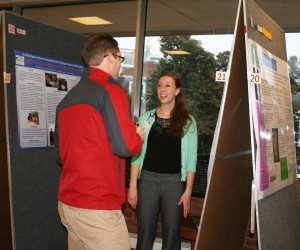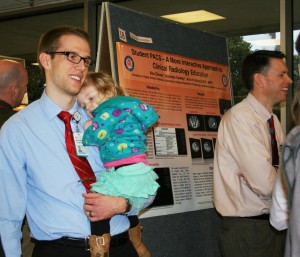 The poster session was organized by Bob Bloodgood on behalf of the Academy of Distinguished Educators, with major assistance from Ashley Ayers and Wilma Lynch. The Brodie Award Committee, chaired by Dr. Evan Heald, coordinated the activities associated with the Anne L. Brodie Medical Education Award.
Printed copies of the Abstract Booklet from this year's (and those from previous years) ADE poster session are available from Bob Bloodgood.