Sharon L. Hostler Women in Medicine Leadership Award
Purpose
The award recognizes the leadership qualities of a physician or basic scientist at the School of Medicine, regardless of gender identity, who manifests excellence in several of the following areas: clinical care, teaching, scholarship, mentoring, research, leadership, community service, commitment to continuous learning, and who have exerted influence in fostering a better institutional environment by advocating for women's issues.
The nomination deadline is Monday, June 29, 2020.
Award Presentation
The award winners will be announced by the Dean. The Dean will notify each awardee's Department Chair and the Dean's Office will be responsible for appropriate publicity in University and non-University publications.
This Award
Who May Nominate
School of Medicine faculty, housestaff, or medical student
School of Medicine faculty, regardless of gender identity, clinical and basic science. The nominee must demonstrate at an exemplary level the UVA Health System's ASPIRE values.
a nominating letter that describes the qualities and achievements that make your candidate an appropriate choice
the nominee's curriculum vitae
a statement from the nominee's department chair or division chief that attests to the nominee's exemplary demonstration of the UVA Health's ASPIRE values
If you wish to nominate a prior nominee, contact the Chair of the Committee on Women, who will forward the nominee's name and previously received information to the selection committee.
The Selection Committee is composed of the following: all members of the Committee on Women Steering Committee, including the committee chair, and all active faculty in the SOM who are previous Hostler Award recipients.
The committee is advisory to the Dean who will make the final selection.
Send an electronic copy of the nomination packet as a single PDF to Ashley Ayers, at Ala5t@virginia.edu.
Questions?
Contact: Carol Manning, PhD, ABPP-CN
Phone:(434) 924-8497
Email: Cm4r@virginia.edu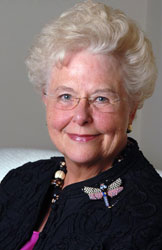 This award was named to recognize the accomplishments and contributions of Sharon L. Hostler, MD, McLemore Birdsong Professor of Pediatrics. Dr. Hostler served as the School of Medicine Senior Associate Dean for Faculty Development from 2003-2007. She then served as Interim Vice President and Dean of the School of Medicine in 2007-08. From 2008 to 2015, she has served as Vice Provost for Faculty Development (UVA) and Senior Associate Dean (School of Medicine).
Award Recipients
2019 Sharon L. Hostler Women in Medicine Leadership Award Recipients
2019: Carol A. Manning, PhD, Professor of Neurology
2018: Victoria F. Norwood, MD, Professor of Pediatrics
2017: Cynthia M. Yoshida, MD, Professor of Medicine
2016: Julie A. Matsumoto, MD, Associate Professor of Radiology and Medical Imaging
2014: Rebecca A. Dillingham, MD, MPH, Assistant Professor of Medicine
2012: Amy H. Bouton, PhD, Professor of Microbiology
2010: Wendi R. El-Amin, MD, Assistant Professor of Family Medicine
2008: Margaret L. Plews-Ogan, MD, Associate Professor of Medicine
2006: Laurel L. Rice, MD, Professor and Vice Chair of Obstetrics and Gynecology
2004: Theresa L. Schlager, MD, Professor of Emergency Medicine and Pediatrics
2002: Claudette Dalton, MD, Assistant Dean for Community Based Medicine
2000: Ruth Weeks, MD, Professor Emeritus of Psychiatry
2015: Susan M. Pollart, MD, MS, Senior Associate Dean for Faculty Affairs and Faculty Development and Ruth E. Murdaugh Professor of Family Medicine
2013: Jennifer A. Harvey, MD, Professor of Radiology & Medical Imaging AND JoAnn V. Pinkerton, MD, Professor of Obstetrics & Gynecology
2011: Karen C. Johnston, MD, Professor and Chair of Neurology
2009: No award was given
2007: Joyce L. Hamlin, PhD, Professor and Chair of Biochemistry and Molecular Genetics
2005: Margaret A. Shupnik, PhD, Professor of Medicine and Physiology and Associate Dean for Basic Research
2003: Sarah A.J. Parsons, PhD, Professor of Microbiology
2001: Christine Peterson, MD, Associate Professor of Obstetrics and Gynecology and Associate Director of Student Health
1999: Carolyn Brunner, MD, Professor Emeritus of Medicine