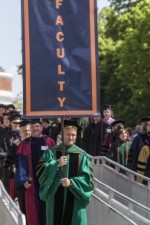 The UVa Faculty Senate represents all faculties of the University with respect to all academic functions such as the establishment and termination of degree programs, major modifications of requirements for existing degrees, and action affecting all faculties, or more than one faculty, of the University.
Additionally, the Senate advises the President and the Rector and Board of Visitors concerning educational and related matters affecting the welfare of the University.
The School of Medicine holds 21 seats on the University of Virginia Faculty Senate. Each year nominations for open seats are solicited from all SOM department chairs, center directors, faculty and current SOM faculty senators. All faculty are invited to vote in the election of their faculty senate representatives.
School of Medicine Faculty Senate Representatives
Rasheed Balogun, Medicine (2021)
Brian Belyea, Pediatrics (2020)
William Brady, Emergency Medicine (2018)
Donna Chen, Public Health Sciences (2020)
Stephen Culp, Urology  (2021)
Linda Duska, Obstetrics & Gynecology (2021)
Jay Fox, Microbiology, Immunology and Cancer Biology (2018)
Vanessa Gregg, Obstetrics & Gynecology (2022)
Peter Hallowell, Surgery (2018)
Joel Hockensmith, Biochemistry and Molecular Genetics (2020)
Brant Isakson, Molecular Physiology and Biological Physics (2022)
Meg Keeley, Pediatrics (2021)
Bradley Kesser, Otolaryngology (2021)
Susan Kirk, Medicine (2020)
Maria Lopez, Pediatrics (2018)
Carol Manning, Neurology (2022)
Thomas N. Pajewski, Anesthesiology  (2021)
Margaret Plews-Ogan, Medicine (2018)
Philip Smith, Surgery (2018)
Jeffrey Young, Surgery (2018)
Victor Zaydfudim, Surgery (2022)
*the year noted indicates end of term of service